Hey everybody… it feels like its been FOREVER since I've posted. I have really missed you all… that might sound funny but I love seeing the notifications from readers and reading the comments that others leave… it makes me feel like maybe, just maybe I am helping someone in some way.
I think my last post was on January 30th! I had written a little bit about this pregnancy and some of the surprises, stresses, and worries it has brought with it. We are so blessed to have this little one in our lives and we just can't wait to meet her!
I also told about some of the unexpected events that had transpired with our new house which we still haven't officially moved into completely yet although I might spend more time there than I do here right now.
Someone did end up coming out to fix the electrical and plumbing issues but yesterday when I went to use the dishwasher it wouldn't work… HMMMM???!!! The girls were not thrilled when I told them this news today… lol. I told them we now have a very expensive new dish drying rack!
January was full of ups and downs with the house, an ultrasound, and some other family activities that I wrote about HERE. I stayed pretty busy and tried to get things a little bit more organized… you can read about that in this post… the time spent on getting organized has paid off in some ways as I couldn't have seen the newest issues that were yet to come.
Our homeschool adventures have been on hold for a couple of weeks as we've been focusing on getting the house ready to move in and I've been dealing with some new pregnancy-related? health issues.
So where to begin? That's a good question because SO MUCH has happened. February was such a blur that I can't even believe it has come and gone already!
Well, let's start with baby news. We had a doctor's appointment on Valentine's which was a bit crazy. Not long after checking in there was a FIRE DRILL! Well, it wasn't a drill as the alarm had been triggered and the entire four-story medical plaza had to be evacuated!
Guess what floor we were on? Yep, the fourth! I've been dealing with a lot of heart palpitations and shortness of breath so walking down four flights of stairs was no fun… then we had to walk back up them when the firefighters cleared the building. I seriously thought I was gonna pass out.
I was still quite winded when the doctor came into the room (we had a new doctor as the previous one NEVER responded to my requests to have my medication refilled!) He was quite nice and we both liked him. We discussed the possibility/probability of C-section… I've never had one so it is a little scary to think about. He also had some blood work ordered for my thyroid and a glucose screening done.
The doctor also put in a referral for me to see a cardiologist and one for the baby to have a fetal echocardiogram done as there were concerns from the previous ultrasound.
The following morning, my 43rd birthday!, the doctor called to tell me to quit taking my thyroid medicine because it was too much. He also called in a new prescription for me to start taking later that week. This may or may not have been part of the reason for the heart flutters and shortness of breath which I still have. He also informed me that I had failed the glucose screening so lucky me gets to do the 3-hour screening at my next appointment… YAY!
The glucose screening was done a bit early this time as my last pregnancies have been large babies and the doctor just wants to keep a close eye on this baby and her weight gain… he wants to keep a close eye on the possibility of gestational diabetes as this can cause babies to be quite large as well.
Just a few of my birthday spoils… even little Ms. Priss got a few things that have me so excited to start shopping. Mr. Awesome also bought me several cute maternity shirts as my clothes have been getting a little bit snug. We have also been gifted a beautiful cradle and antique wooden high chair… I will try to walk over and get a picture of them a bit later today.
Since that appointment, I am still having tons of shortness of breath as well as frequent bouts of nausea. I have spent quite a bit of time resting in the recliner or laying on my left side. It is frustrating to not be able to get up and go like I want to do but I know that this phase will not last forever and it is so important to take of myself as I do have this special little blessing growing inside of me and I have to make sure to keep her as safe as I can.
Not being able to do anything without becoming winded has affected my square dancing. I still try my best to attend the dances and on a good night I might dance half a tip but I can't do much more than that right now. We also did not get to attend the State Convention this year although I had greatly enjoyed it last year. The kiddos did go stay with their big sister and big brother for the weekend so we had a little break nonetheless.
I did have to run a few errands yesterday and at one of those, I was asked if I was trying to keep up with the Duggars and the Bates! Well… if I could get a TV show and make a ton of money… maybe… All jokes aside this will most likely be my last baby… I refuse to say NEVER because I have been proven wrong many times. You just never know what plans God has in store for you and I am constantly AMAZED at the blessings he has bestowed on us and the paths he has led us down so I choose to trust him even when things seem IMPOSSIBLE.
When I have good days I try to do a little bit of batch cooking/freezer cooking and this has saved dinner quite a few times lately. Mr. Awesome has been pretty good about helping out around the house and in the kitchen… even it is just bringing home some pizza or fast food for them to eat… you gotta do what you gotta do sometimes. I try to do my Walmart Grocery Pickup every so often to keep some healthy foods and necessities on hand. Yesterday I did go into the store and I was so exhausted by the time I finished all I wanted was a nap when I got home. You can find lots of Freezer Meal information HERE.
**This post does contain affiliate links to products and/or services that we use. If you happen to click through a link and make a purchase we may earn a teensy-weensy small commission (at NO EXTRA cost to you) if a purchase is made through these links. These links help to support our family, our blog, and our homeschooling mission. This means that we can keep bringing you great recipes, ideas, and tips for FREE! Click HERE for a full disclaimer.
In other news, the house was coming along quickly until I broke the bathtub. It was completely accidental but a blessing in disguise. When Mr. Awesome went to rip out the old tub he fell through the bathroom floor! Yeah… the whole floor was rotted so it was just a matter of time before it became a HUGE issue.
The bathroom has been gutted and the floors have been repaired so now we just have to put the bathroom back together before we can get completely moved in.
The kitchen is 95% completed and it looks so much better than it did before. We are happy with the way it turned out and I have been trying to get it all organized… a little bit at a time. I'll try to get a post together about the products we used for our kitchen.
We've been carrying things over a little at a time as you can see in the pictures above. This makes it easy to get things put away but it is such a slow process. I will be so glad when Mr. Awesome has a couple of free days so he can bring the trailer over and we can load it up with some of the bigger items.
This morning we carried a couple of loads of kitchen things over and we made and ate breakfast at the house… the kids were so excited! I had high hopes of getting quite a bit accomplished today but that idea quickly disappeared when one of the kiddos had a tantrum and meltdown.
As many of you know I have two special needs children who are greatly affected by the moon phases. We have a time change coming along with a full moon that is VERY CLOSE so things have been a bit trying this week and I don't foresee that next week will be much better.
We ended up putting away the things we had brought over, cleaning up the breakfast mess, and then headed back over to the little house. I thought it might give me a chance to catch you guys up and I also started a pot of tea and put some chicken in the crockpot for dinner. I'll probably add some sweet and sour sauce to it later and serve it with some rice and steamed broccoli.
We had expected to have our new washer and dryer delivered today but things don't always go as expected. I got the scheduling call yesterday but they informed me that they had 'lost' our dryer! I'm not sure how that happened but they couldn't locate another one so they have reordered it and we should have them Saturday morning.
I love hanging our clothes out but I will definitely appreciate these new appliances as I will be able to use my little spurts of energy in other areas right now. Mr. Awesome has a clothesline on his 'Honey Do' list but that is not at the top of the list right now and I haven't even really decided where I want to put it.
You might be wondering about what type of washer and dryer we decided on so I'll tell you a little about them… really I was just not into shopping that day so I let Mr. Awesome lead the decision. He found this Whirpool Load and Go washer that will let me load up to 20 loads of detergent into it and then, we believe, program a wash cycle so that the kids can just push a button to wash their laundry.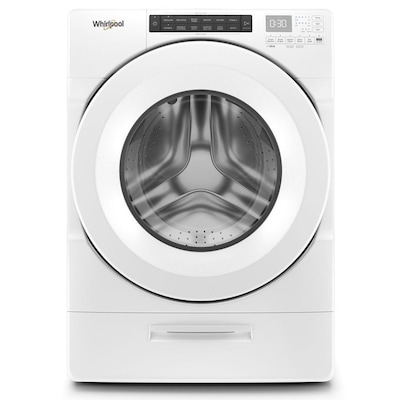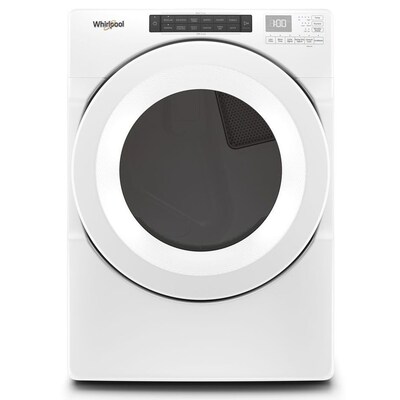 I prefer the front loaders right now as they allow the kids to be a little bit more independent in helping with the laundry. This pair was on sale when we bought them so we saved quite a bit of money. We did go ahead and purchase the extended warranty because this was quite an investment to make and we just wanted to make sure that we were covered in the event of an unexpected repair.
I'm sure that I will post some more about the features of this pair as I get to use them and learn more about them. We also like that they have the option to stack them which is something we may consider later on.
Another thing that happened last month was that Mr. William had the opportunity to attend one of the Night To Shine Special Needs Proms hosted by Tim Tebow. He had a blast and is looking forward to going again next year. This is a wonderful event and I encourage everyone to support it if you can.
Well, that about wraps up the past month or so… I hope you have all had a great month and I pray that this coming month is even better for you. I will try my best not to wait so long between posts and I will get to work on the kitchen update post soon.
As always we want to thank you all for your thoughts and prayers and we ask that you continue to keep us in your prayers… talk to you soon!